Coming to Nha Trang, in addition to enjoying the traditional delicacies of Nha Trang and Vietnam, enjoying the famous brand food in the world will help you peace of mind on food safety.
Most of these brands are fast food restaurant in Nha Trang such as fried chicken, pasta, hamburgers, fries, freshly brewed drinks, sodas and ice cream.
Lotteria 
This is the fried chicken brand of Korean, which is very popular with young people, you can easily find at supermarkets such as Lotte Mart  in Nha Trang, Co.op Mart or on 73 Thong Nhat street.
KFC
Talking to KFC (Kentucky Fried Chicken), no one is unaware of the American fast-food. Guests will find shops at the Nha Trang Center shopping center or 67 Le Thanh Phuong.
Jollibee
Compared with other fried chicken brands, Jollibee is made with Asian flavors with fried chicken and spicy sour. It is known that Jollibee is always loved by the children because the image of the yellow bee always dance, create points and attract the little friends to the store. Plus, Jollibee is always changing with super savings promotions, big meals for the family but the price is very reasonable.
Pizza Hut
In addition to enjoying the fast food in Nha Trang, pizza is also a reasonable choice for your family to eat together. Pizza Hut also has the combo of savings and often has special discounts " buy one get one free".
In addition to fried chicken and pizza you can enjoy famous Vietnamese food and beverages such as coffee and Pho. These two culinary brands originate from a Vietnamese overseas business owner – David Thai, with a passion for food and a dream of getting rich in his home country that his two brands are slowly gaining in popularity. Foreign investors are willing to buy back this brands. Therefore, these brands are not only in Vietnam but also famous in Asian countries like Philippines, Korea, Japan … and other countries like USA, Australia …
Highlands Coffee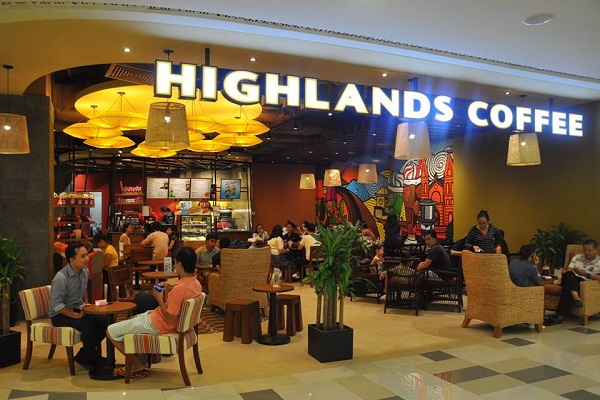 Coffee is an agricultural product of the Vietnamese people, tastes more specific, passionate and strong than other types of coffee in other countries such as Espresso. Therefore, Vietnamese coffee is always a gift many visitors buy for friends and relatives. Highlands Coffee is famous for its richly flavored coffee, which is blended in Vietnamese style such as black coffee and iced coffee. Besides, the Highlands also produces European style coffee such as freeze coffee, or many other drinks such as chocolate, tea combined with milk, fruit, green tea … very attractive.
Highlands Coffee also offers desserts such as pastries and breads to satisfy guests' needs for breakfast or dessert.
Address : – 20 Tran Phu St, Nha Trang
– 1 Tran Hung Dao St, Nha Trang
– Lotte Mart : No 58, 2/3 st, Nha Trang
Pho 24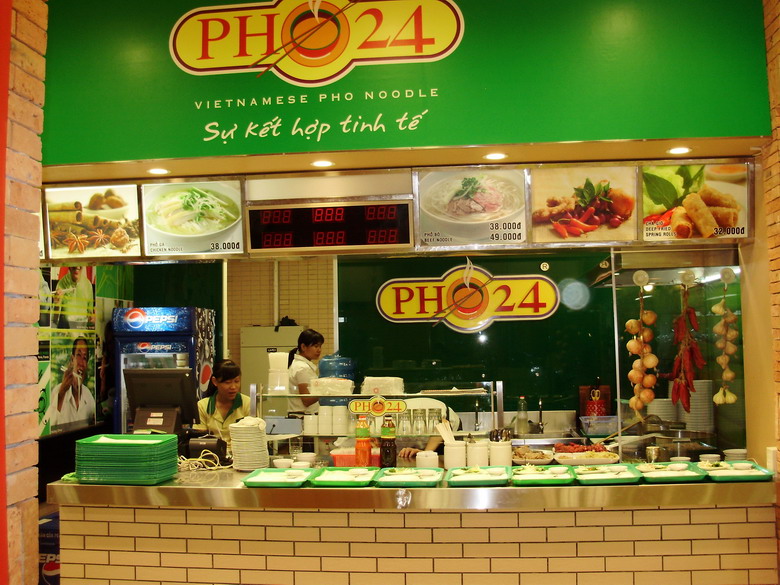 Speaking of Vietnam, you can not forget to mention Pho, this dish is unique and the essence of Vietnamese cuisine. Pho with fragrant beef or chicken soup,  the soup is made from beef bones extremely bold and sweet, will be the food that you remember when you leave Vietnam. But you peace of mind with the Pho 24 restaurants chain in Vietnam has been expanded throughout Vietnam and many countries in the world.
Read more :
– 4 famous mud bath places in Nha Trang
– Relaxing activities to do in Nha Trang
– The outdoor activities on ex us military jeeps in Nha Trang