Nha Trang is a famous coastal city with many small and large islands surrounding it, so the island tour is the choice of many tourists visiting to Nha Trang. In addition to snorkeling services, eat fresh seafood on Nha Trang bay, participate in adventure activities on the beach such as water motorbike, parachuting, surfing, …
if your family needs quiet space and harmony in nature,  You can also stay at resorts such as Hon Tam, Vinpearl land Nha Trang … it will be a good idea.
Coming to Nha Trang, you can also refer to this article " relaxing activities to do in Nha Trang ".
When discovering inorganic mineral deposits in Ninh Hoa town and know the ingredients in hot mineral water and inorganic mineral mud is very good for human health.
From here, the unique mud bathing and natural hot mineral bath service was born in Nha Trang at the beginning of the 21st century, and enjoyed by many visitors.
In this article I will specifically address the famous mud bathing places in Nha Trang :
1. Thap Ba Hot Springs Center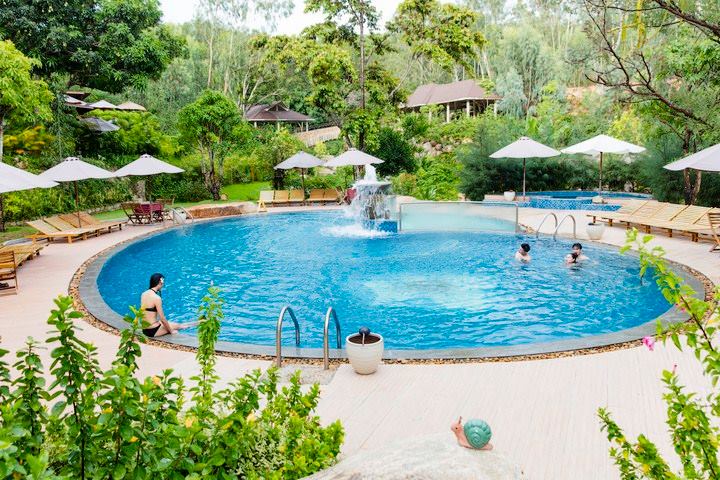 Thap Ba Hot Springs Center is the first hot mineral bath and mud bath in Nha Trang. Located at 15 Ngoc Son – Ngoc Hiep, Nha Trang, Khanh Hoa province is relatively close and easy to find. You can rent a motorbike and prepare a map to explore the sloping road to the hot springs, or simply contact the tour office to use  the shuttle car service at your hotel follow your request (about 30.000VND/1 person/1 way).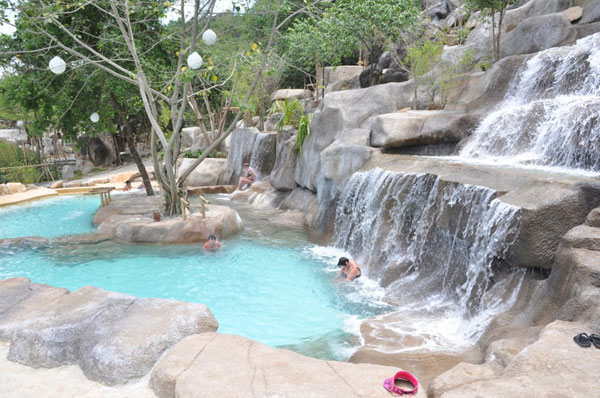 There are many services to choose including hot mineral baths, mud baths, hot and cold mineral swimming pool and waterfalls in the communal area … if you like private space, you can use vip services with private pools such as natural mineral mud bath with herbs, full body massage, private vip massage …with the lowest price from 180.000VND for collective mineral mud bath.
2. I-resort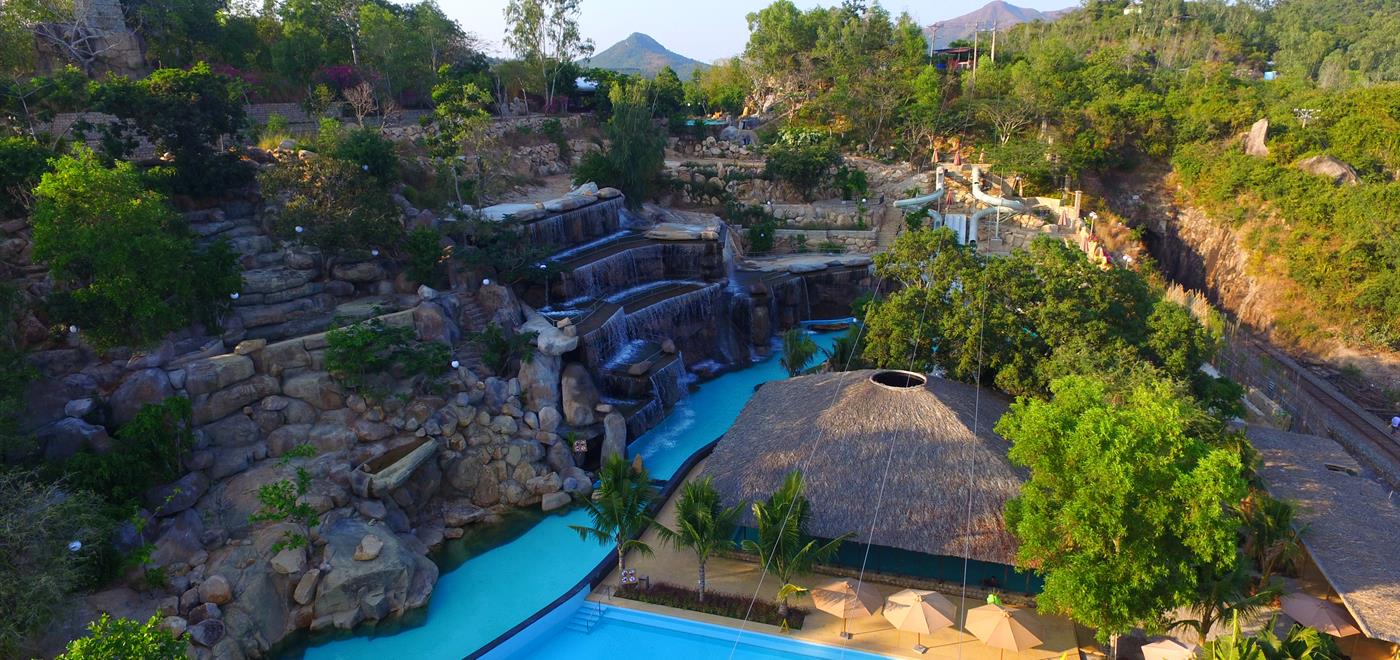 Similar to the Tower, the I-Resort is also frequented by many visitors. I-resort is designed with cool space, many trees, looks more beautiful and modern. In addition to the services such as mineral bath, mud bath, herbal mineral bath … I-resort also has restaurants and water parks for children and young people love to slide tube and adventure games.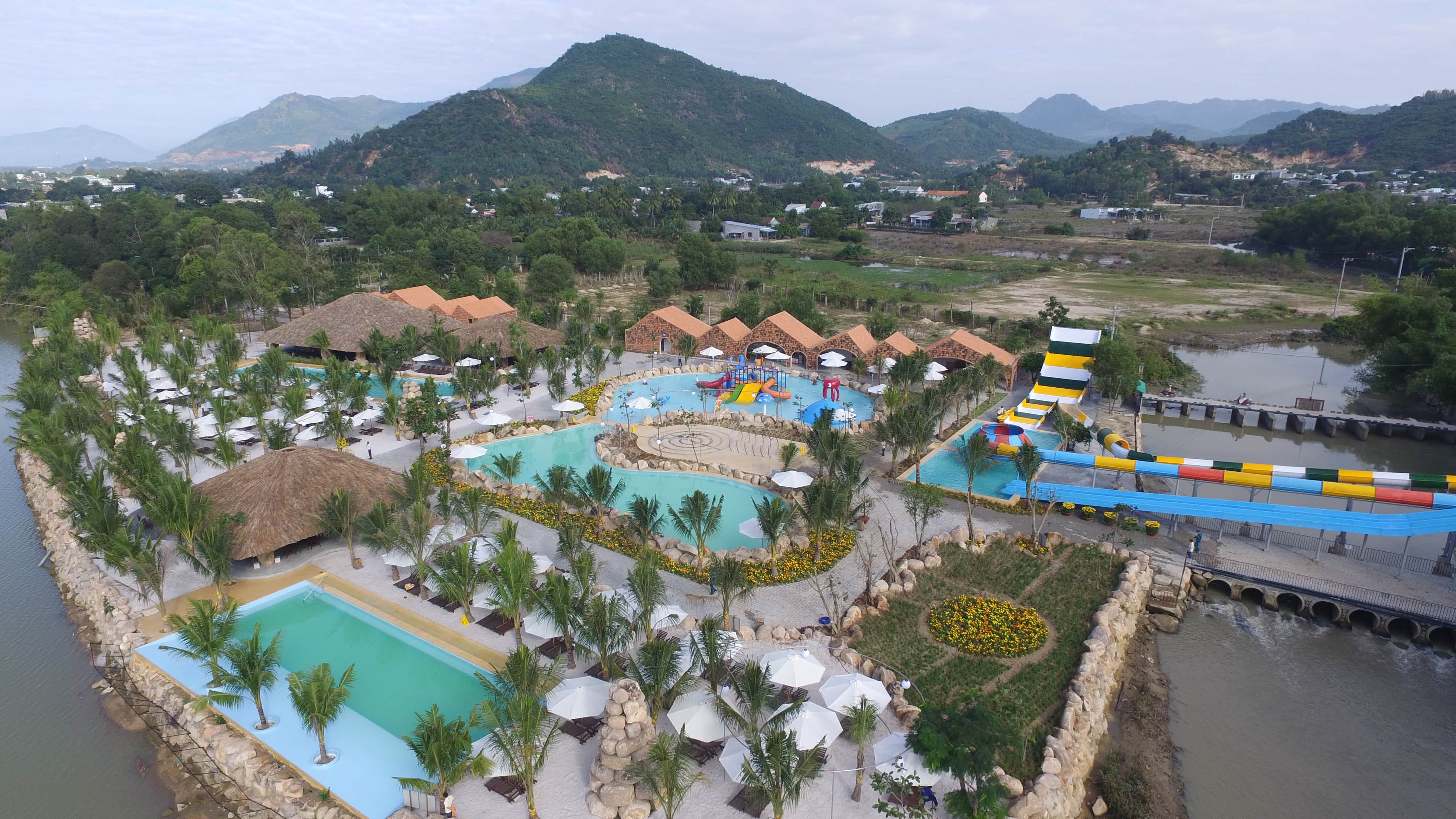 Tickets always include towels, swimwear and a bottle of mineral water.
In addition, I-Resort also sells products from mineral water and natural mud that you can buy as gifts and beauty care such as black mud, mud cosmetics, mineral spray ..
3. 100 Egg Mud Bath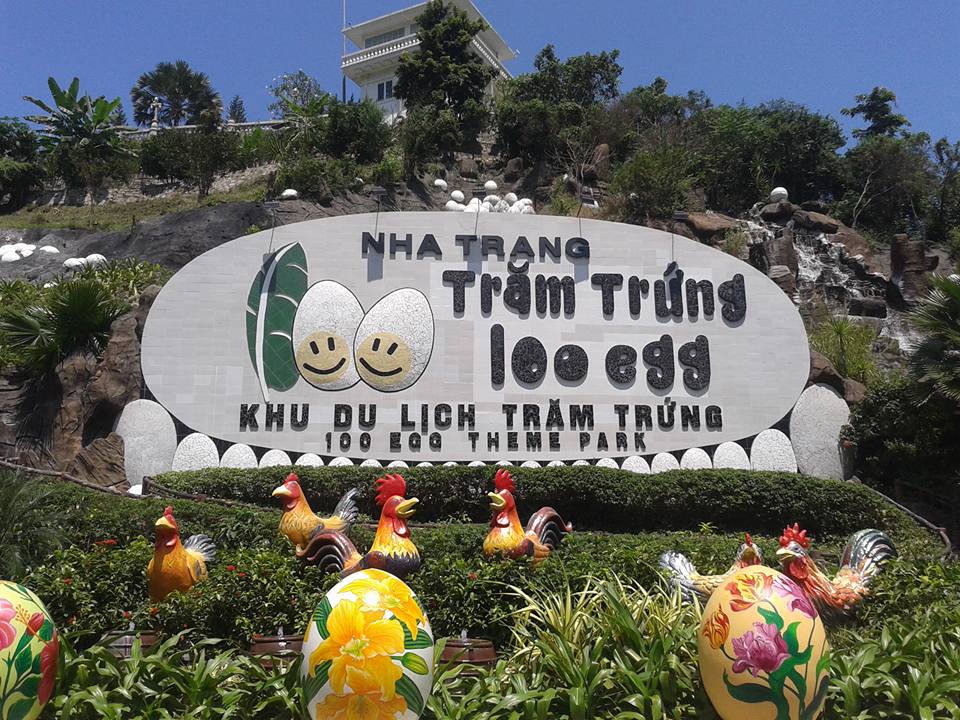 This is the newest mud bath in Nha Trang, with an area of ​​over 20 hectares and 8km from the city center. This will be an interesting sightseeing and tourist destination when you come to Nha Trang. You will enjoy the exciting space when dipping in the giant eggs, alternating between the cool green space. You can choose from a variety of bathing areas, including pools, waterfalls and jacuzzis.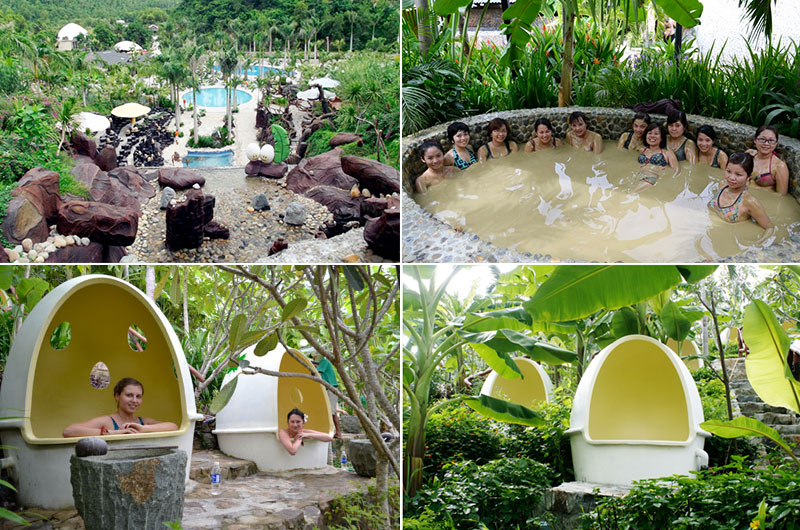 In addition to mud bath, hot mineral bath, visitors can also visit the Egg Gardens, Famous Park, Vietnam Traditional House, Writers Central Highlands …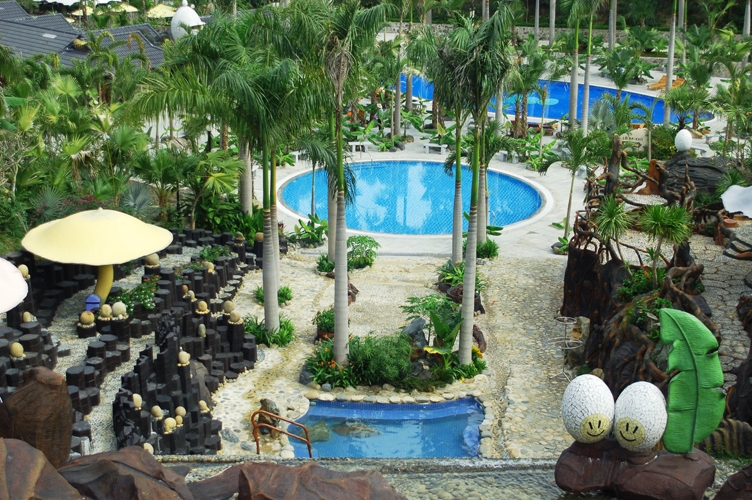 At the 100 eggs restaurant,  you will enjoy the food of three regions of Vietnam and many dishes in the world.
There are also regular cultural activities such as camp fire, magic, traditional music, and team building activities.
Reference price is from 250.000 VND/1 person for mud bath
4. Galina Mud Bath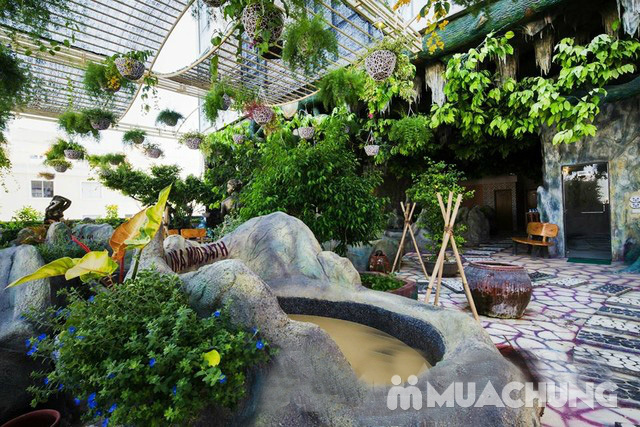 If you do not have time to travel far and still want to mud bath, then Galina Hotel is a good choice for you.
The mud bath is located on the 4th floor in Galina Hotel, 5 Hung Vuong Street, in the heart of the city. Tourists can use many services such as Mud Bath, Onsen, Sauna and steam bath … with many kinds of tubs for family or personal. It will be convenient for you and your family. Reference price is from 200.000 VND.