Every year the beautiful seaside city of Nha Trang attracts visitors by the beauty of the green beaches, the green hills, the street food and many famous sights. In addition to enjoying the beautiful natural space in Nha Trang, the question is "What to do in Nha Trang?" Certainly for you, the beach is extremely suitable for the special adventure games that you will definitely want to experience when coming to Nha Trang.
Windsurfing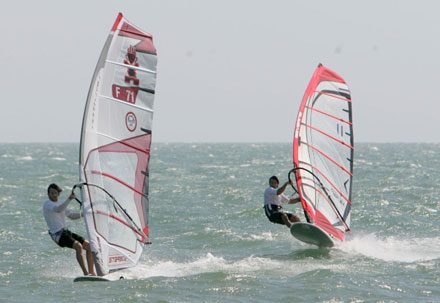 Every trip to Nha Trang, surfing sport makes many adventurous tourists enjoy the experience of feeling strong.
The feeling of being kicked on high waves, hit by strong waves or chasing from behind will be very attractive. Since this is an adventure game, it requires practice so experienced people are ready to surf on the sea.
Guests can rent skateboards at an average price of over 200,000 per hour and enjoy the fun of the waves of the beautiful city.
Surfboarding needs a lot of time to be able to play mature.
Visitors can opt for paddle surfing. Compared to regular surfing, this type is easier to play and players only need a few hours of practice to be able to control the surfboard quite well. Due to the paddles, it is easier for players to travel further on the water.
Depending on your ability, you can paddle in calm waters or windsurf on waterfalls or at larger waves to experience the thrills.
Parasailing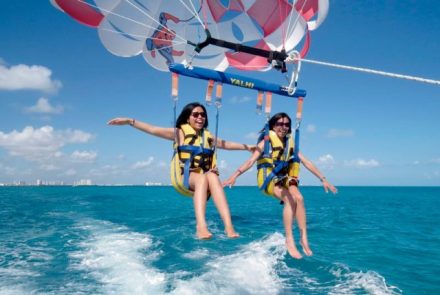 Paragliding is one of the most adventurous sports on Nha Trang beach. To play this sport, you need time to get acquainted. After that, you can fly as much as you like and start a fun aerial journey. To make sure your outing is safe, you need a lot of protective gear and a seat belt.
You can come from a hill about 50 – 60m above sea level with a wind speed of 16 – 22km / h. Professional players can control even up to several thousand meters and several kilometers away with a flight time of only 10 to 15 minutes.
Join this game, you will be suspended in the air, to enjoy the whole view of nature from above with large blue sea. That will be unforgettable feeling in your Nha Trang travel.
Water motorcycles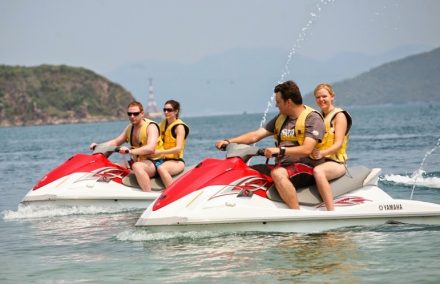 If you have the opportunity to travel Nha Trang, visitors will have the opportunity to experience the adventurous when participating in water motor sports. This is a pretty popular game that you can catch at any beach in Nha Trang.
This game is not so hard, it's very similar to the motorcycles that you control every day. However, with this game you will have to make the motor on the water. With just a few instructors' guidance, you can confidently drive a motorcycle through high waves.
Motorbike rents fluctuate around 400,000 VND per hour.
Fly-board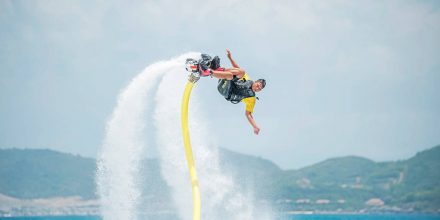 Fly-board is a relatively new water sport in Vietnam. When exploring the Nha Trang tourist sites, you can catch some of the people playing this sport at the big beaches.
To ensure safety, visitors will be wearing protective clothing and a helmet. Then, the player stands on a device with a jet engine with the ability to push out water, creating a huge pressure . As a result, the player is pushed up to 8 or 9 meters.
Enjoy the wonderful feeling of standing on a big wave, up to ten meters high. This is extremely interesting, you will become a superman on Nha Trang beach.
However, the cost to participate in this game is quite expensive, you have to pay from 1.2 million VND.
Kayaking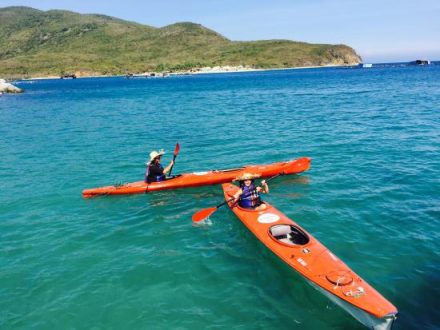 Kayaking is a adventure game that challenges the bravery, persistence, calm and courage of the players. This boat is for two people to sit and use the oars to move over the water. Just for a moment, you can control the paddles as you like.
Depending on ability and interest, tourists can choose different starting points. If you are unfamiliar and a little hesitated, you should try in the sea, the lake quiet, light waves. Conversely, if you want to enjoy the thrills and challenge yourself, you can come from the top of the falls and slide straight down the water.
The rent for a Kayak boat ranges from 200,000 VND to 300,000 VND per hour.
Snorkelling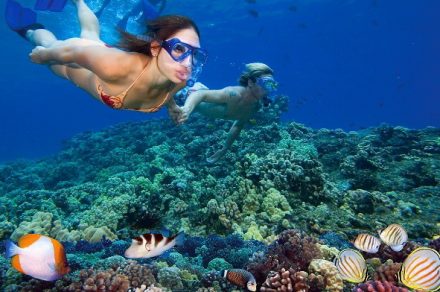 Snorkelling is also one of the favorite adventure games in Khanh Hoa. If you only dive down to 5 meters and use diving glasses, you can dive at Tam Island and the Monkey Island to explore coral reefs and hundreds of beautiful fish.
But to truly discover all the beautiful marine life, Mun Island is the best place to explore. So "What to do in Hon Mun Nha Trang".
Hon Mun is home of a variety coral reefs and home of more than 350 species of marine fish at depths of 15 to 20 meters.
When diving, visitors will be equipped with professional gear such as a diver including: diving wear, eyeglasses, snorkel, … You will be trained in advance with symbols from the instructor, you will catch at the beginning of the journey to explore the ocean at a depth of 10 – 15 meters. Your coach will follow and guide you.
Scuba Diving Tours vary in price depending on your professionalism:
For those who do not have a license: Dive 1: 650,000 VND / 35 minutes; second dive: 300,000 VND / 35 minutes; Guests have license: 650,000 VND / 2 times / 50 minutes; Sea creature swimming: 300,000 VND / 35 minutes (reference price).
Besides, you can also keep your scuba diving memorabilia with photography snorkeling service for 200,000 VND
In addition to the sea adventure, "What else to do in Nha Trang city?" You can also participate in other outdoor activities such as mountain climbing, crossing the waterfall, biking across the terrain …
Climbing Ba Ho Waterfall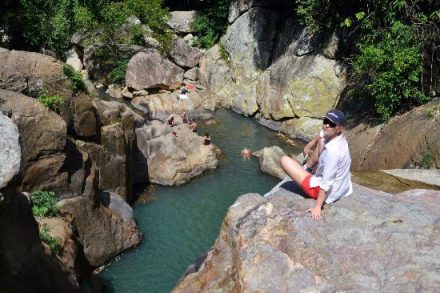 Away from the center of Nha Trang city, if you are the love of conquering the high mountains, Ba Ho Waterfall is the most suitable place. This is a pristine resort, with steep slopes and large waterfalls. Your challenge is to conquer and explore the path to 3 large lakes, enjoy the fresh air and cool streams.
You only charge about 50,000  of the entrance fee.
These games require visitors to have health and endurance, endurance with risky phases, if you can play and passionate about these games, then let's go to Nha Trang.
Read more: Top 6 interesting things to do in Nha Trang