Nha Trang is a culinary paradise, where convergence of all culinary cultures of regions in Vietnam. But to choose the traditional food of the Nha Trang people to understand the food culture, Nha Trang Street Food Tour will take you to the wonderful street food paradise with attractive dishes that you can find and see  on every corner in Nha Trang. Come and discover what and where to eat in Nha Trang
Banh can – Rice cake: This is a dish made of rice flour baked with earthenware molding with charcoal. The crispy shell, soft inside with the breadcrumbs is changed according to the tastes of the people, but traditional dishes are usually made with chicken eggs or quail eggs, today because of seafood preferences, the dish is varied with variety of shrimp, beef, squid … Dishes are also used with diluted fish sauce or Mam Nem (a special sauce of Vietnamese made from fish)with a lot of onions. The food will be more attractive if eaten with minced mango to taste.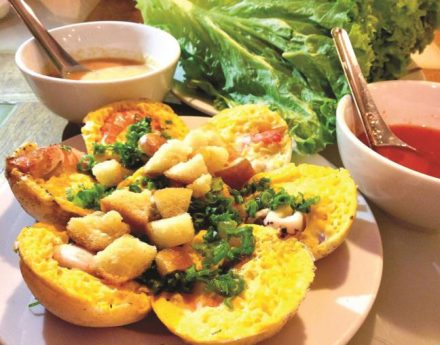 Where to eat banh can in Nha Trang :
– 151 Hoàng Văn Thụ, Nha Trang
– 165 Nguyễn Trãi, Nha Trang
Seafood: Nha Trang has a wide variety of seafood from fish, shrimp, crab, squid to countless types of snails. These kinds of seafood will be processed in many different dishes such as grilled onion, grilled, fried or grilled garlic is extremely attractive. Restaurants, shops in Nha Trang are the local people to catch and provide should be very sure about the quality of food safety. However, the selection of restaurants should be well researched to ensure.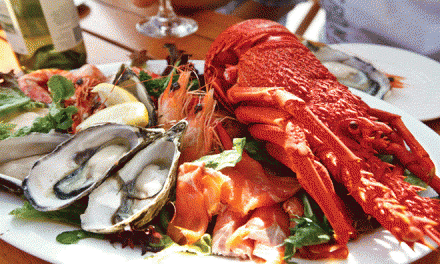 Come to Nha Trang street food tour to guide Where to eat the quality seafood in Nha Trang or you can go to Luong Son Port to buy the fresh seafood and make by yourself.
Banh Cuon – Rolled Cake: This cake is a traditional Vietnamese dish, used for breakfast. Banh cuon made from diluted rice flour, thinned and rolled inside are pork, minced wood ear mushrooms, onions and aromatic spices. This cake can not lack sweet sour and spicy sauce. On the plate of rolls will be decorated with coriander, herbs, onions and Vietnamese ham. Banh cuon is so light and easy to make you want to eat none-stop.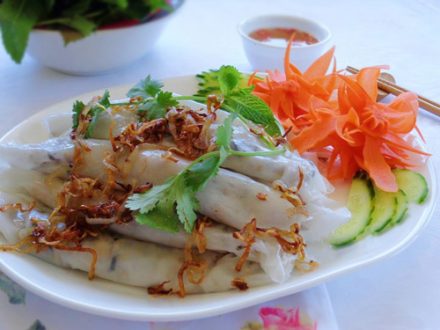 Reference address:
– 51 Bạch Đằng, Nha Trang
– 16 Hồng Lĩnh, Nha Trang.
Vietnamese chicken curry: Talk about the curry you think of India, but with the Vietnamese, the chicken curry becomes more delicate and gentle with the unique flavor of fresh milk and coconut milk very fragrant, fat. This dish is served with white rice, bread. Chicken curry is cooked with potatoes, onions and carrots to enhance the flavor of vegetables.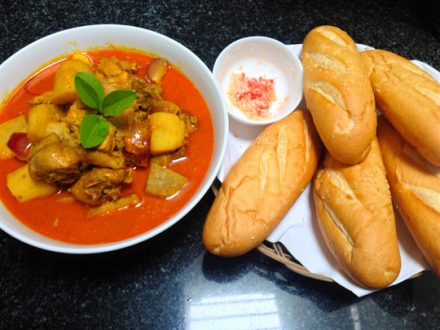 Reference address:
-Sailling Club : 72-74 Trần Phú, Nha Trang
Banh Xeo – Crispy Pancake: Banh xeo is a traditional dish of Vietnam, similar to French crepe, but the cake is made from rice flour, turmeric flour and coconut milk. The cake is fried on a hot pan with a round mold, when pouring the cake to the pan will emit a very distinct sound. Dishes include shrimp, meat, bean sprouts, quail eggs … depending on the preferences of the food. Dishes are also varied, such as fried on large pans and cut to size with rice paper or vegetables.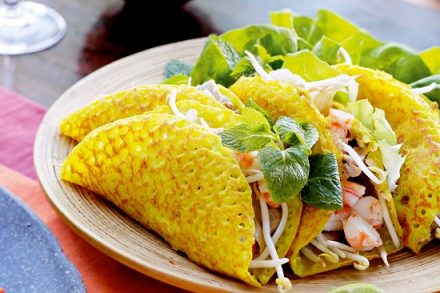 Reference address:
-35 Nguyễn Thị Minh Khai, Nha Trang
-64 Hồng Bàng, Nha Trang
You had a hand in the list where to eat in Nha Trang, please start the journey to explore the rich street food of Nha Trang right now. Or you can accompany Nha Trang Street Food Tour to experience the exciting moment. Contact us to know about the tours.
 Read more:
– Interesting things to do in Nha Trang