Things to do in Nha Trang? This is the first question to ask when you want to travel to Nha Trang. The following article will give you the most general view of the entertainment services in the beautiful coastal city with blue sea, white sand and extremely cool climate.
1.Join the island tour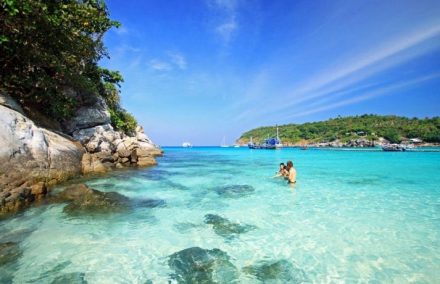 Coming to Nha Trang, you can easily reach the brochures, advertise the tours at the hotel reception or tour offices. You can join the 4 islands tour is the most popular and cheapest tour in Nha Trang, the price of 150 VND includes boat to 4 islands and serve lunch on the boat, wine party in the sea. In addition to the 4 islands tours, there are other special tours such as fishing tour, squid fishing, BBQ tour, …
Besides, you can also take part in ecological tours such as Yang Bay tour, Monkey Island tour, orchid stream, …very exciting.
2.Discover Nha Trang street food tour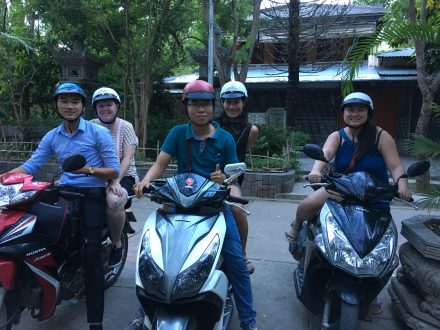 Things to do in Nha Trang Street Food Tour?
This is a new tour service for guests who like to explore the culture, the life of indigenous people and enjoy the traditional dishes entertained by the hosts in the warm family atmosphere. The special thing of Nha Trang Street Food Tour is that you will discover the strange land on a motorcycle with friendly students. This will be your unforgettable trip on the motorbike to discover the nooks of Nha Trang with attractive street food.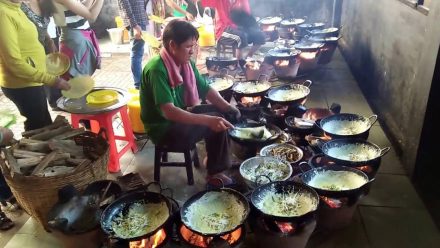 With this tour, students will take you to the new eating places in Nha Trang that only indigenous people know. Most of these dishes are attractive, quality, delicious but cheap. Make sure you love that taste in the first time. Now go with Nha Trang Street Food Tour to know where to eat in Nha Trang.
3.Mud bath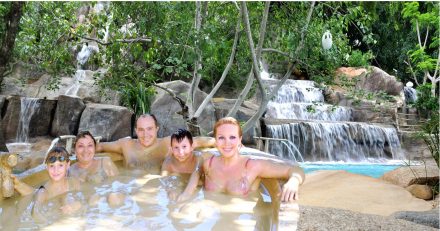 Mud bathing is a favorite service by the feeling of relaxation in a warm space amidst tranquil mountains. In addition to the mud bath service you will enjoy other services such as hot springs, herbal bath, spa, … very relaxed and bring good effect both physically and mentally. I-resort, Thap Ba hot spring or 100 eggs are the favorite places for mud bathing.
4.Discover traditional Nha Trang cuisine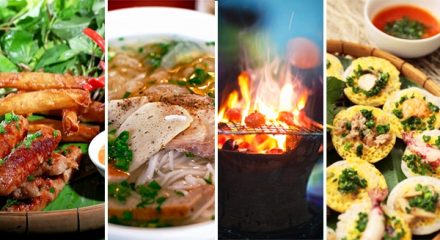 Every region of Vietnam has a unique taste for food. What to eat in Nha Trang? For Nha Trang cuisine is unique by nature for the rich and abundant fresh seafood. So Nha Trang fish balls, fish noodle or jellyfish noodle, banh xeo, banh can… are all specialties with the taste of the sea.
Come to Nha Trang to enjoy endless and rich seafood combined with traditional dishes from ancient times.
5.Shopping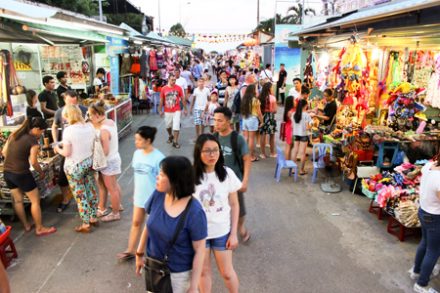 Shopping in Nha Trang, you can immediately think of Dam Market, which provides all the essentials and specialties of Nha Trang people. You can buy as a gift for your family. There are the dried items such as dried squid, dried shrimp … with good quality or handmade souvenirs are extremely beautiful or simply the conical hats are also purchased by visitors as souvenirs.
6.Vinpearl land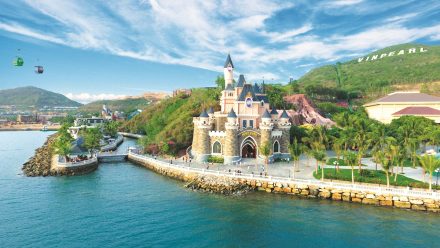 Come to Nha Trang can not forget to Vinpearl Land, this is a symbol of a jewel on Nha Trang beach, you can easily see when strolling along the coast.
To get through the island you have two options: one is by canoe, the other is the longest cable car in the world.
Things to do in Vinpearl Land Nha Trang ?
Vinpearl Land is a large entertainment area with high-end resorts. There are many amusement services such as water park, aquarium, outdoor games such as ferris wheel, roller coaster …, video games, 3D cinema, 4D … and many attractive games. Besides, there are also circus performances, water music … and many booths for customers to visit and shop.
You have been excited about the entertainment services in Nha Trang yet, with the article Things to do in Nha Trang, I'm sure to help you not boring when coming to this coastal city.
Read more: What to do in Nha Trang with young people like adventure games