Nha Trang beach city has a lot of interesting entertainment activities, but if this is the first time to Nha Trang, you must be wondering what services to do in Nha Trang, so Nha Trang Street Food Tour will guide you and your family can enjoy every moment when coming to beautiful Nha Trang city.
City Tour
If you are self-exploring the road, new activities in Nha Trang tranquility, you should rent a motorcycle or scooter, buy yourself a map and some essential items: drinking water sunglasses, mineral sweaters, sunscreen, hats … to accompany the city tour.
The places we can visit around the city are famous sites of Nha Trang such as Po Nagar Towers, Nha Trang Cathedral, Long Son Pagoda, Chong Promontory Rocks, Oceanographic Institute, Dam Market, …
If you spend time one day, I think you can explore all the places here, as most of them are located near the center of Nha Trang city.
Nha Trang street food tour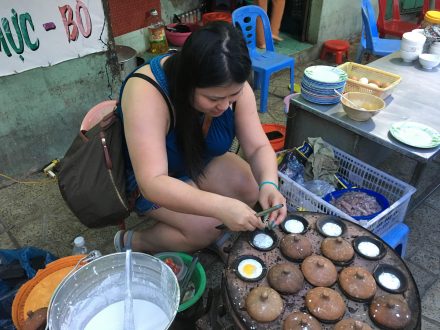 In addition to places near the city center that you can explore yourself, tours such as street tour, river & scooter … will give you the experience of life, style of life as well as traditional cuisine of the local people. It will be an exciting and memorable trip than ever. Your tour will be specially instructed by students and transported by motorcycle, meals will be hand of the owner or local people serve you.
Another tour
To continue exploring Things to do in daytime of Nha Trang, we can take part in day tours sold at travel agencies or hotel reception counter for the same price, if possible you must bargain to receive a good price.
Island tours such as four-island tour, fishing tour, coral diving tour … With these tours you will be visiting and relaxing at the beach on the island, eat seafood, swim, play water sports such as water motorbike, parachuting, surfing … You can use the most professional and beautiful scuba diving service with marine ecosystem on Hon Mun.
Besides, there are other tours such as Monkey Island, Orchid Stream, Yang Bay Waterfall, … to be in harmony with nature and enjoy your holiday.
Vinpearl Land is also a place for you to explore with family and friends with a variety of fun activities for all family members such as cable car, water park, indoor and outdoor games, aquarium, water music …
Outdoor activities
In addition to the popular tours in Nha Trang beach at tourist information agencies, you can also explore Nha Trang with more exciting activities such as climbing Ba Ho waterfalls, bike riding conquering winding roads, water rafting.
Read more:
– Discover top 5 what and where to eat in Nha Trang
– Things to do for who love sport and adventures in Nha Trang
– Top 6 interesting services to do in Nha Trang